Directed by Ray Limon
Music and Lyrics by Richard M. Sherman & Robert B. Sherman
Adapted for the Stage by Jeremy Sams & Ray Roderick
Based on the MGM Motion Picture
From the children's book by Ian Fleming
The most fantasmagorical stage musical in the history of everything!
»Download Poster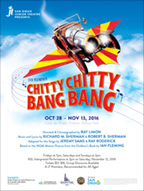 Take a fantastic musical adventure with an out-of-this-world car that flies through the air and sails the seas. Based on the beloved 1968 film version of the children's book by Ian Fleming (James Bond), and featuring an unforgettable score by the Sherman Brothers (Mary Poppins, The Jungle Book, Bedknobs and Broomsticks, Charlotte's Web, The Aristocats), Chitty Chitty Bang Bang is one family-friendly blockbuster that audiences will find 'Truly Scrumptious.'
An eccentric inventor, Caractacus Potts sets about restoring an old race car from a scrap heap with the help of his children Jeremy and Jemima. They soon discover the car has magical properties including the ability to float and take flight. Trouble occurs when the evil Baron Bomburst desires the magic car for himself. The family joins forces with Truly Scrumptious and batty Grandpa Potts to outwit the dastardly Baron and Baroness and their villainous henchman, the Child Catcher.
Filled with amazing stage spectacle and unforgettable songs, including the Academy Award®-nominated title song, Chitty Chitty Bang Bang is a high-flying fun-filled adventure for the entire family!


Rippledink Recommends!
A JT Premiere. ASL-Interpreted performance, 2pm, Saturday, November 12, 2016.
» Download the Study Guide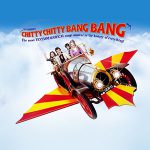 Cast
Caractacus Potts- CJ Rabine
Truly Scrumptious- Maria Tenereillo
Jeremy- Miranda Ferreira
Jemima- Delanie Tasto
Grandpa- Giovanni Cozic
Baron- Angelus Almera
Baroness- Emma Ragen
Boris- Brandon Saldivar
Goran- Sonia Halle
Childcatcher/English Crowd/Junkman- Cameron Britt
Toy Maker/English Crowd- Lucas Gonzalez
Morris Men/Vulgarians/English Crowd/Soldiers- Breeann Kindron, Bella Rabine, Bella Stillwell, Emily Talerman, Katy Dawson, Kahlia Canada, Jenny Mota, Maya Wallace
Vulgarians/English Crowd- Sophia Valenti, Paulina Zepeda, Giulianna Hashemi-Asasi, Rowan Byrne, Gianna Merghart, Amanda Cooper, Sophia Herrera, Molly Bell
Kids Ensemble/English Crowd/Inventors- Audie O'Neal, Ava Valenti, Maximo Paniagua, Danny Ruiz, Isabella Combs, Gabrielle Canada, Hannah Allen, Talia Baird, Riley Johnson
Crew
Stage Manager- Pierre Cozic
Assistant Stage Manager- Maria Castiglione
Lights- Brett Atchison
Spots- Summer Kocher, Sophia Castiglione
Sound- Tess Maretz, Imahni King-Murillo
Stagecrew- Eleanor Rideout, Moses Strasser-Biess, Connor Bradshaw, Lulu Ross, Jaxon Poland
Costumes/Makeup- Francesca D'Amico, Mia Pennell, Sarah Kaplan, Thais Santana, Tana Zapf, Kinzie Pipkin, Molly Nilsen
Box Office- Diego Zepeda, Rose Anaya
Ushers- Hayden Goldman,  Annabella Leos, Sophie Kelvin, Emily McCulloch, Logan Tontz

Music and lyrics by Richard M. Sherman and Robert B. Sherman. Music by special arrangement with Sony/ATV Publishing. Adapted for the stage by Jeremy Sams. Based on the 1968 MGM motion picture from the children's book by Ian Fleming. Licensed script adapted by Ray Roderick. Presented through special arrangement with Music Theatre International (MTI). All authorized performance materials are also supplied by MTI. 421 West 54th Street, New York, NY 10019. Phone: 212-541-4684. Fax: 212-397-4684. www.MTIShows.com. Production sponsored in part by the City of San Diego Commission for Arts and Culture, the City of San Diego Park and Recreation Department, and the County of San Diego.

Artists: