Directed and Choreographed by Ricardo Valenzuela
Book and Lyrics by Jody Davidson
Music by Brett Schrier
Based on the Novel by Richard and Florence Atwater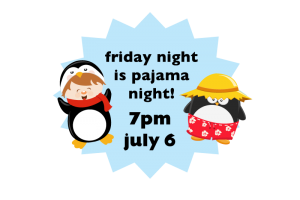 Mr. Popper, a house painter of modest means, lives with family in a small town. He is a restless dreamer who spends his time reading of famous explorers in faraway places. See how his life changes when a package from Antarctica turns out to be a live, dancing penguin!


Rippledink Recommends!
A Junior Theatre Premiere! Pajama Night - 7pm Friday, July 6, 2018. Sensory-Friendly performance, 11am Saturday, July 7, 2018. ASL-Interpreted performance, 2pm Saturday, July 14, 2018.
»Download Poster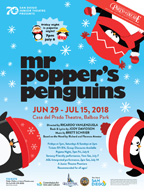 Book and lyrics by Jody Davidson. Music by Brett Schrier. Based on the novel by Richard and Florence Atwater. Presented through special arrangement with Plays for Young Audiences, a Partnership of Seattle Children's Theatre and Children's Theatre Company Minneapolis, 2400 Third Avenue South, Minneapolis, MN 55404. Production sponsored in part by the City of San Diego Commission for Arts and Culture, the City of San Diego Park and Recreation Department, and the County of San Diego.

Artists: