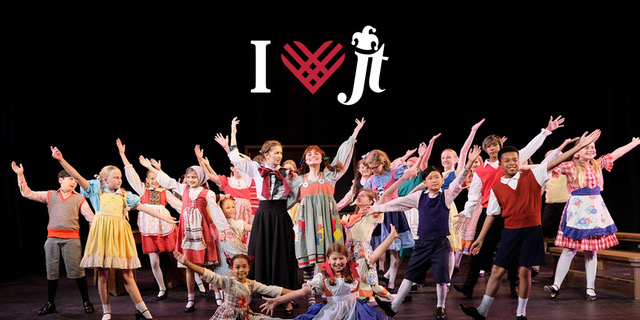 HOW TO DONATE
At San Diego Junior Theatre, "dancing to your own beat" starts with a safe, non-judgmental space for self-expression and discovery. It's a community where differences are celebrated and a nurturing environment for young people to develop a sense of self, explore new territories, and take personal and artistic risks.
Please help Junior Theatre foster transformative experiences in the lives of young people by making a donation to the Annual Giving Fund today. Your donation makes it possible for Junior Theatre to:
Recruit highly-experienced teaching artists and guest professionals for camps, classes and productions
Produce six annual productions, all with original production designs, and many with live orchestras
Acquire top and emerging titles that will enrich the lives of our students as well as family audiences throughout San Diego County
Provide live theatre experiences to over 10,000 youth through our student matinee performances
Reach underserved families and audiences, with inclusion programs such as ASL-interpreted performances, tuition assistance, and scholarships
Thank you for your commitment to the future of the oldest youth theatre in the nation. Your donation will ensure that Junior Theatre is the place where dreams are realized in a safe and nurturing community and where life-long friendships are born.
Sincerely,
James Saba
Executive Director