News and Reviews
From San Diego Junior Theatre
Dear Junior Theatre Families and Friends,
Junior Theatre is taking a brief "intermission" from programming until further notice. The health and safety of our staff, students, patrons and supporters is our top priority. Junior Theatre is closely monitoring the national situation surrounding COVID-19 and we are looking forward to the day when we receive our cue for places from the San Diego Parks and Recreation Department.
We have every hope that soon our classrooms will be alive and thriving once again with summer campers and Shakespeare workshops; and in our theatre, students might soon be wowing families with tales of frogs and toads, snowy days, Chinese dragons, gigantic peaches, glass slippers, and a cheesy little man who stinks…all led by a girl named Matilda who is much too determined to let a setback stand in her way!
We are working remotely to keep critical operations moving forward. When our building is re-opened, we will be ready to jump back into programming with enthusiasm and a renewed sense of appreciation. "Like" our Facebook page to get updates, or take a trip down memory lane as a reminder of all the hope and happiness that Junior Theatre students have shared with audiences over the past 73 years.
The recent cancellations of programs will have a serious financial impact to Junior Theatre and our ability to serve families in the future. If you would like to support us during this unprecedented challenge, please consider converting your tuition credit or ticket purchase into a donation. Or make a donation via our website.
The Show Must Go On, as they say, and your gift will help ensure a standing ovation!
Thank you for your understanding and support during this critical time. We wish your family good health and good spirits. Please do not hesitate to reach out at [email protected]m with any questions.
We look forward to having you back and on the edge of your seat again soon!
Sincerely,
James Saba
Executive Director
Interactive show geared towards toddlers sold out all four performances
By Teresa Monaco
On November 16th & 17th, San Diego Junior Theatre launched its first foray into Theatre for the Very Young (TVY), a type of interactive theatre geared specifically toward toddlers ages 3-7. Wake Up, Brother Bear!, written by Janet Stanford and Kathryn Chase Bryer, takes little ones on a journey of a glorious year of seasons. They see a waterfall melt, meet a butterfly, chase an elusive fish, and skate on an icy pond.
"Theatre for the Very Young (TVY) is a new movement in children's theatre geared to toddlers and their guardians where audience members are given tasks and props that move the plot forward. The story doesn't move forward without the help of the audience. In effect, the audience is the cast," says Brother Bear Director and Junior Theatre Executive Director, James Saba.
"What I didn't expect was what a magical theatre experience this would be to parents and guardians. Watching a toddler get lost in the world of a leaf, flower, or firefly, is one of the purest and most thrilling experiences I have witnessed at Junior Theatre."
Wake Up, Brother Bear! was performed by two teaching artists, Mr. Marc and Miss Ciarlene, with the audience members sitting in a circle around them on-stage. Junior Theatre's production featured some added elements, including an original score by Ian Brandon. Two Junior Theatre students, Lainey Bowler and Katy Dawson, played "Park Rangers," acting as facilitators to help with props and the various interactive components of the performance.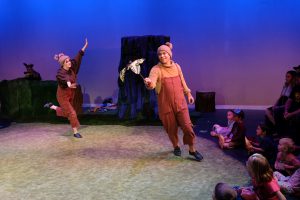 Just minutes into Saturday morning's performance, Sister Bear became sick and was unable to finish the show, despite her best efforts. Park Ranger/Facilitator Lainey Bowler immediately jumped in and improvised Sister Bear's part, while Katy Dawson made sure to cover all of the Park Rangers' material. Having attended several rehearsals and learning the general structure of the show, the students had a 30 minute window to rehearse and successfully complete the second performance of the day without missing a beat.
Lainey and Katy exemplified one of JT's core values: resiliency. Despite the setback, they jumped in and enabled the show to go on. Other core values taught at Junior Theatre include identity, responsibility, community, and empathy. These are just a few of the many lessons and values that theatre education teaches young people today.
Wake Up, Brother Bear! was Junior Theatre's first TVY show, but it will not be the last. The level of engagement and excitement from the audience (kiddos and their parents) will serve as inspiration for the next one. According to Sidney Hambsch, Mom blogger/Instagram influencer, it was "The cutest thing we've done kid-wise in San Diego." Starting this winter, Junior Theatre will offer "Toddler and Me" theatre classes through its education program. Stay tuned for more fun toddler events and classes at San Diego Junior Theatre coming very soon.
We're so proud of our resilient School of Rock cast and crew for pushing through opening weekend despite an overnight break-in at the Casa del Prado Theatre on Friday, which resulted in four stolen guitars.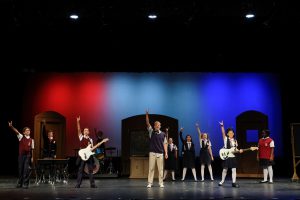 "I'm proud of the cast for bouncing back and putting on a great show. I spoke with my mom and she helped me put things in perspective. We prayed that the stolen instruments get used for a good cause. I recognize that we maybe have more than others and I hope that whoever has them is able to do some good," said Pita Birkbeck (age 15), one directly affected student.
Oliver Davis (age 12), another student who was impacted by the theft, said "Props to everyone for sticking with this. My teacher said that the show must go on; sometimes you have to be prepared for the worst. And worse things could have happened. No one got hurt. A guitar is a guitar. That can be replaced. You can't replace a person, or their health if they get hurt. We're okay,"
The cast and crew are in good spirits and look forward to a successful closing weekend of shows Nov 1-3.


San Diego Junior Theatre is proud to announce its 72nd Season of Shows, "Dance to Your Own Beat!"
SCHOOL OF ROCK
OCT 25 – NOV 3, 2019
WAKE UP, BROTHER BEAR!
NOV 16-17, 2019
TWELFTH NIGHT
JAN 10-19, 2020
NAKED MOLE RAT GETS DRESSED: THE ROCK EXPERIENCE
FEB 28 – MAR 8, 2020
ROALD DAHL'S MATILDA, THE MUSICAL
APR 24 – MAY 10, 2020
THE JUNGLE BOOK
JUN 26 – JUL 12, 2020
WEST SIDE STORY
JUL 24 – AUG 2, 2020
BUY TICKETS NOW
By Teresa Monaco
17 year-old Junior Theatre student Molly Nilsen makes almost-yearly trips to New York City—but this trip was different. The primary purpose was to scope out colleges for Molly to attend next fall. A close second, of course, was to see a few Broadway shows.
"I'm lucky enough to have access to Broadway-quality live theatre in San Diego, but there is something so magical and surreal about being in New York and seeing a show, which I've listened to over and over at home, come to life right in front of my eyes," Molly explains. "This trip, I was lucky enough to see Oklahoma!, Waitress, and Alive by Heart, all of which were absolutely incredible."
Oklahoma!, in particular, was a highlight of Molly's trip. Ali Stroker, the first actress who uses a wheelchair to appear on a Broadway stage and win a Tony Award, was playing Ado Annie in this production. "I've been following Ali Stroker's career ever since she performed on the Tony's with the cast of Deaf West Theatre Company's Spring Awakening," says Molly. After contacting Ali's management (and not expecting a response), Molly found out that she'd be meeting Ali Stroker in the lobby after the show.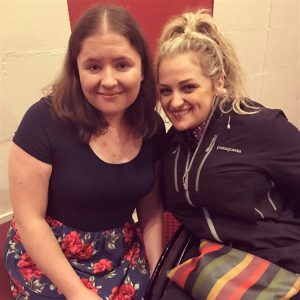 "Meeting [Ali] was so surreal, I was absolutely star-struck. I have known for a long time that I want to pursue theatre, but I never saw myself represented on the stage. I didn't know if it was possible for someone like me," Molly describes. She uses crutches and leg braces to help her walk, dance, and move through life, as a result of being born with spina bifida.
"When I saw her on that stage, I started crying, because I finally realized that this isn't impossible—that I can do this if I work hard enough. I am so lucky to have someone like her to look up to, and I hope to one day be that person for someone [else]."
When asked about her favorite part of being in Junior Theatre, Molly responds "It feels like my second home. I've been at JT since I was nine, and I believe it has made me the person I am today… right from my very first rehearsal at JT, I felt like I was accepted and loved. No matter what's going on in my life, I know that for those two hours I can be in a place where people accept me and love me for exactly who I am."
After graduating high school, Molly plans to earn her Bachelor of Fine Arts in Musical Theatre. Her top three dream roles are Jenna in Waitress, Anya in Anastasia, and Cinderella in Into the Woods. "Each of these characters has an inner strength that I admire, and go on journeys of self-discovery to become the best possible version of themselves. I think that's really empowering to me and to young women."
Registration is now open for fall classes & camps! We've got a little something for everyone, from improv to rock n' roll vocals, and everything in-between! Visit https://juniortheatre.com/classes/ for the full line-up.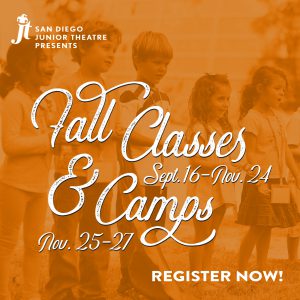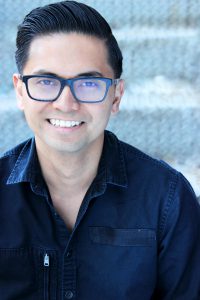 Wilfred Paloma will direct and choreograph of Junior Theatre's fall production of School of Rock! Wilfred has an M.A. in Theatre Arts from San Diego State University. He is a beloved SDJT Teaching Artist, and is currently choreographing of The Hunchback of Notre Dame. MARK YOUR CALENDARS: The pre-audition workshop for School of Rock is July 25, 4:30-6:00 pm. Auditions are August 5 and 6, 4:00 – 6:00 pm. Call the Education Office at 619-239-1311 to make an appointment or for more details. https://juniortheatre.com/auditions/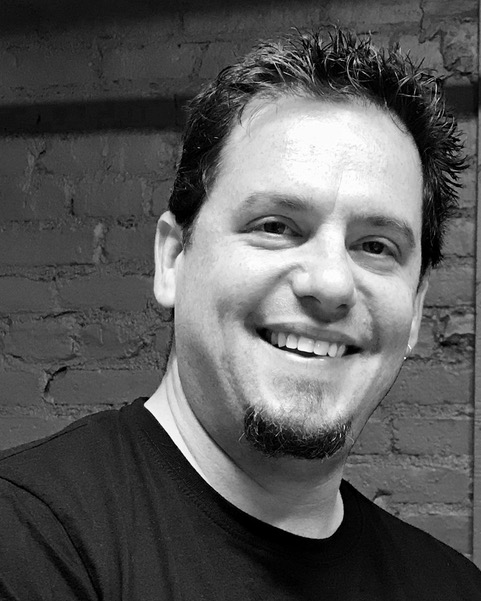 IT'S TEACHER APPRECIATION WEEK! Meet Teaching Artist, Levi Kaplan. Levi is a graduate of the MFA Directing Program at The Theatre School-DePaul University. He is also a Teaching Artist with La Jolla Playhouse, and Arts for Learning San Diego. Recently Mr. Kaplan was the Director of Theatre at Woodward Academy in Atlanta, GA, and a board member of Curtain Call Youth Players in Marietta GA. Additionally, for the past 20 years Mr. Kaplan has worked as a director and lighting designer for a variety of companies in Chicago, Atlanta, and across Florida, and served as the Artistic Director of The Acorn Theatre in Tampa Fl. Welcome Levi!