A Play by Rick Elice
Directed by Desha Crownover
Music by Wayne Barker
Based on the Novel by Dave Barry & Ridley Pearson
» Download Poster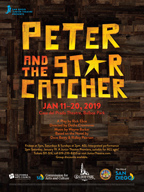 Peter and the Starcatcher takes a hilarious romp through the Neverland you never knew. Based on the best-selling novels, this magical and musical adaptation upends the century-old story of how a miserable orphan boy becomes the legendary Peter Pan.
Peter and the Starcatcher was originally presented in 2009 as a Page to Stage workshop production by La Jolla Playhouse; Christopher Ashley, Artistic Director, and Michael S. Rosenberg, Managing Director.
A Junior Theatre Premiere.

Rippledink Recommends - Suitable for ALL ages!
ASL-Interpreted Performance, 2pm Saturday, January 19, 2019.
Cast
Boy - Cameron Britt
Prentiss - Alexander Hayward
Ted - Gavin Britt
Lady (Lord) Aster - Katy Dawson
Molly Aster - Colette Gigante
Mrs Bumbrake/Teacher - Emily Ince
Bill Slank - Daniel Hernandez
Black Stache - Scotty Atienza
Smee - Audie O'Neal
Mack - Paulina Zepeda
Sanchez - Oliver Davis
Captain Scott - Genna Foster
Alf - Chris Nalick
Fighting Prawn - Sam Nalick
Hawking Clam - Sydney Kroonen
Narrators - Scotty Atienza, Cameron Britt, Genna Foster, Daniel Hernandez, Colette Gigante, Emily Ince, Sydney Kroonen, Ezra Ramirez, Paulina Zepeda
Mermaids - Laura Allen, Scotty Atienza, Brooklyn Barrett, Katy Dawson, Genna Foster, Emily Ince, Ava Marie Johnston, Sydney Kroonen, Lillian Mirgoli, Cathleen Wyse, Paulina Zepeda
Mollusks - Jackson Allen, Laura Allen, Brooklyn Barrett, Timmy Clarken, Oliver Davis, Gabriel Gerson, Ava Marie Johnston, Graham Kroonen, Lillian Mirgoli, Sam Nalick, Ian Noon, Ezra Ramirez, Cathleen Wyse
Sailors / Orphans / Pirates - Jackson Allen, Laura Allen, Brooklyn Barrett, Timmy Clarken, Oliver Davis, Genevieve Foster, Gabriel Gerson, Ava Marie Johnston, Graham Kroonen, Sydney Kroonen, Lillian Mirgoli, Christopher Nalick, Samuel Nalick, Ian Noon, Ezra Ramirez, Cathleen Wyse, Paulina Zepeda
Crew (Partial)
Stage Manager - Marlee Koury
Assistant Stage Manager - Connor Bradshaw

Originally produced on Broadway by Nancy Nagel Gibbs, Greg Schaffert, Eva Price, Tom Smedes and Disney Theatrical Productions. Peter and the Starcatcher is presented through special arrangement with Music Theatre International (MTI). All authorized performance materials are also supplied by MTI. 421 West 54th Street, New York, NY 10019. Phone: 212-541-4684. Fax: 212-397-4684. www.MTIShows.com. Production sponsored in part by the California Arts Council, the County of San Diego, the City of San Diego Commission for Arts and Culture, and the City of San Diego Park and Recreation Department.

Artists: