»Download Poster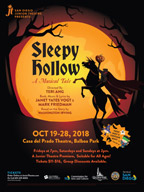 Three modern day kids try to figure out how to return home after they are magically transported back in time on Halloween night. They are thrown straight into the legend of Sleepy Hollow as the 18th century colonial town is preparing for the arrival of the Headless Horseman.
A Junior Theatre Premiere.

Rippledink Recommends - Suitable for ALL ages!
Join us for Costume Night! At 7pm Friday, October 26, 2018.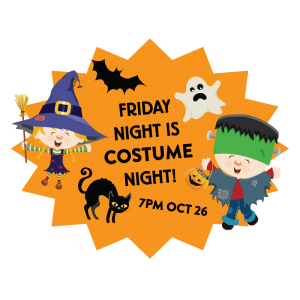 Cast (partial)
Amy - Julia Van Skike
Charlie - Braeden Steele
Trudy -Ceinna Wolters
Ichabod Crane - Trevor Standifer
Katie - Genevieve Foster
Brom Bones - Isaiah Payne
Abbey - Holly Thorpe
Rustic Lads - Roberto Cone, Spencer Fisher, Benjamin Park
Dutch Wives - A'Verie Bell, Delaney Renwick, Thais Santana
Crew (partial)
Stage Manager - Victoria Porras
Assistant Stage Manager - Eli Thoron

Sleepy Hollow, A Musical Tale is presented through special arrangement with and all authorized performance materials are supplied by Theatrical Rights Worldwide (TRW), 570 Seventh Avenue, Suite 2100, New York, NY 10018, www.theatricalrights.com. Production sponsored in part by the California Arts Council, the County of San Diego, the City of San Diego Commission for Arts and Culture, and the City of San Diego Park and Recreation Department.

Artists: