CONFETTI
Are you looking for more ways to get involved with Junior Theatre?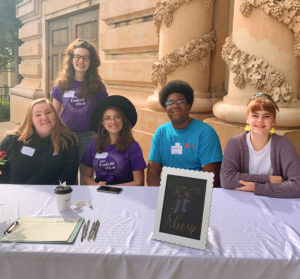 If so, Confetti may be your chance! Junior Theatre is looking for dedicated and enthusiastic students to join the Confetti family this fall. As young leaders, Confetti members inspire and create opportunities through fellowship, community service, and professional development in a fun and inclusive environment. If you are going to be a high schooler in the upcoming school year and are interested in learning more about Confetti and the application process, please email us.
Community Service
Confetti is a community-service based wing of San Diego Junior Theatre geared toward students in grades 10-12. Every year, we are actively involved in a variety of charity events including The AIDS Walk, Adopt-A-Family, Beach Clean-ups, feeding the homeless with St. Vincent De Paul, and collecting non-perishable food and clothing items for persons in need. Confetti hosts a wide range of social events including the Fall/Spring Dance, the Annual Softball game, Film Festival, etc.
Become part of an incredible organization — we have a great deal of fun, cherish our friendships and develop fond memories, all while supporting the community, the arts, and San Diego Junior Theatre.